[NEWS IN FOCUS] China's ban on group tours to Korea spells disaster for tourism industry
[NEWS IN FOCUS] China's ban on group tours to Korea spells disaster for tourism industry
(중국, 한국 단체관광 금지, 관광업계 재앙)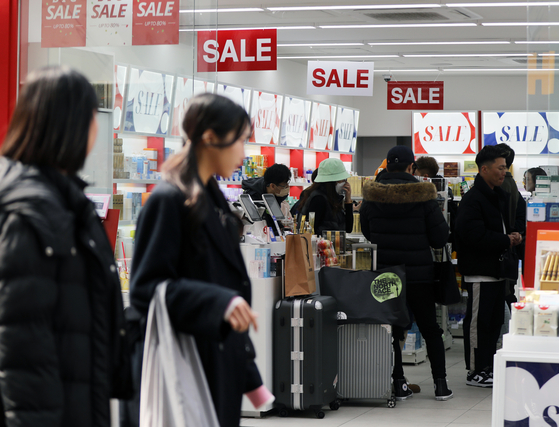 Visitors browse at a cosmetics store in Myeongdong, a shopping mecca in central Seoul, on March 10. Myeongdong shopping area was once a hot destination for tourists from China. [NEWS1]
China's recent decision to exclude Korea from its overseas group tours destinations has dampened aviation and travel industries' high hopes of the return of millions of tourists, as well as their hundreds of millions of won.
A total of 60 countries — announced in two phases — have been officially permitted as destinations for group tour packages for Chinese people as of Thursday, according to China's Ministry of Culture and Tourism.
Korea, however, was not included on the list — a move widely seen as a form of China's unresolved dismay at Seoul's previous anti-Covid measures on entrants from the communist state, which have now been lifted.
Chinese tour groups to Korea have been prohibited since 2017 as part of its retaliation against Korea's deployment of the Thaad antimissile system. Only individual Chinese tourists can travel to Korea.

"Even if individual Chinese tourists are coming in, China's ban on group tours to Korea still is a barrier," an official at one of Korea's full-service carriers, who requested anonymity, said. "We are gradually increasing the number of routes to China, but if China's ban remains in place for a long time, it will definitely have an impact."

Korean Air Lines, the country's biggest carrier, looks to expand its weekly flight frequency on its Chinese routes from the current 13 to 84 by the end of this month and to 99 from May. Asiana Airlines also plans to increase flights services to China from the current 10 times weekly service to 89 in April.

In 2016, the number of Chinese arrivals to Korea reached 8.06 million, and of them, 6.92 million people came for the purpose of travel, according to data from the Korea Tourism Organization (KTO). The figure shrunk in the wake of the Thaad deployment, but increased back to 4.61 million in 2019 prior to the Covid-19 pandemic, making up 31.9 percent of the total number of international tourists. The data didn't specify how many of this number were individual or how many visited as part of a group tour.

High-spending Chinese travelers — particularly those coming in groups — are important consumers both for domestic airlines and travel agencies, industry sources say.

China dominated 23 percent of Korean Air Lines sales and 17 percent of Asiana Airlines sales in 2019.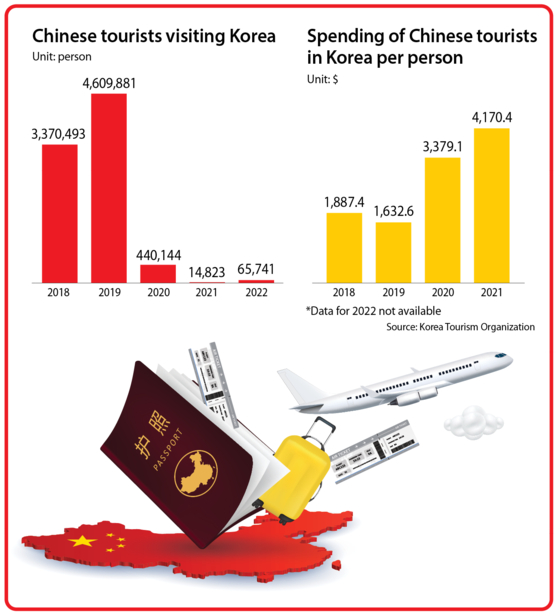 According to the KTO, Chinese tourists spent an average of $1,633 per individual during their visits in 2019, which is 42.1 percent higher than the $1,149 spent by U.S. visitors and 115.2 percent higher than the $759 spent by Japanese travelers.
"Of the total Chinese visitors to Korea, group tourists comprise 20 percent or less of the total, but that 20 percent brings great amount of revenue," said Song Lee, CEO at GK Tour, a tour operator of China inbound tours in Korea.
"We still receive several inquiries for individual tours every day, but most of them book things online on their own and only request for a tour guide or a vehicle," Song told the Korea JoongAng Daily. "So travel agencies can't make much money from one or two individual tourists compared to group tourists coming from an entire school or a company."
중국 인바운드 여행사인 GK투어의 이송아 대표는 "한국을 찾는 중국인 전체 관광객 중 단체관광객이 20% 안팎이지만 그 20%가 차지하는 비중이 크다"고 말했다. 이대표는 코리아중앙데일리와의 인터뷰에서 "여전히 매일 개별 투어 문의가 여러 건 들어오지만 대부분 온라인으로 직접 예약하고 투어 가이드나 차량만 요청한다"고 말했다. "그래서 여행사는 학생단체나 회사에서 오는 단체 관광객에 비해 한두 명의 개인 관광객으로는 많은 수익을 낼 수 없습니다."
"Most private tourists are backpackers so they don't reserve much through a travel agency," said a spokesperson at Hana Tour, one of the largest travel agencies in Korea. "The local tourism industry used to depend heavily on China, but as their group tours have been blocked, we see that the industry has basically collapsed."
A recent report on the effect of China's reopening on the domestic economy published by the Bank of Korea said Chinese travelers will be a "crucial element to boosting Korea's economy" and that the country's economy grows 0.08 percentage points for every million Chinese travelers.
Due to the absence of Chinese group tourists, many tour operators that had offered private or group tours from China were forced to switch their targets.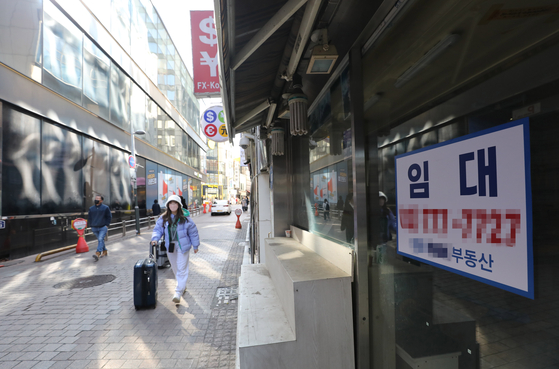 A store with a "For Lease" sign in Myeongdong, central Seoul, on Monday [NEWS1]
"As we were unable to receive Chinese group tourists since China's ban on sales of group tours to Korea over the Thaad conflict, we switched to Taiwan-specialized inbound tour packages," said an official at a Seoul-based travel agency that offers travel services for foreigners. "Many other China inbound tour operators sent employees home to work or even shut down completely. We believe it will take some time for the travel industry to recover."
Sources say the government should strengthen diplomatic and defense ties with the communist state and address the spread of anti-sentiment among the citizens of both countries in order to revive the airline and tourism industries.
"Rather than the reissuance of visas and the permission of group travels, the anti-sentiment in both nations should be ironed out first in order for travelers to come in," said an official from a low-cost carrier company, who wished to remain anonymous.
"Whether they come in individually or in a group, tourists from China spend a lot of money here, and their expenditure is incomparable with tourists from other countries," Song from GK Tour said.
"But because the public sentiment is still negative and the government disregards such big spenders from China, it is the travel agencies that have been dying out since 2017," Song said. "The government should step up to fix such issues."
GK투어 이송아 대표는 "개인이든 단체든 중국 관광객들은 이곳에서 많은 돈을 쓰고, 그 지출은 다른 나라 관광객들과 비교할 수 없다"고 말했다.
"하지만 대중 정서가 여전히 부정적이고 정부마저 중국에서 온 큰 손을 외면하기 때문에 2017년 이후 죽어가는 것은 여행사들입니다."라고 이대표는 말했습니다. "정부는 이런 문제를 해결하기 위해 나서야 합니다."
BY SEO JI-EUN [seo.jieun1@joongang.co.kr]